Posted on May 20, 2022 in Garden Gab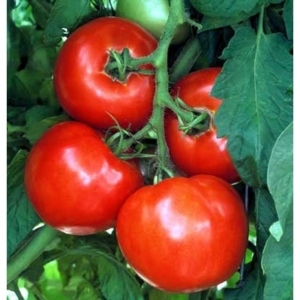 The weather is warming up and you are getting the itch to plant, so you head over to Prairie View and bee line it to the vegetable house to get your tomatoes.  But when you arrive there, you realize there are literally hundreds of flats of tomatoes, and they all look the same even though the signs say they are different.  How will you ever choose the right one?
Well first, do you want heirloom or the more modern hybrids?  The beginning of a heirloom tomato must trace back at least 50 years.  This means that it has not changed in anyway for 50 years or more. Also, it must maintain all the characteristics of the original parent plant consistently for that same 50-year or more time period.  The more modern hybrid tomato is created through cross pollination.  They cross pollinate two or more varieties to create a new variety of tomato.  This is done to increase the number of tomatoes produced, to improve disease resistance, to improve its appearance or taste or maybe all of the above. Hybrids are not GMO.  They are not changed at a cellular level.  Rather the change occurs using the same method bees have been using for years. Heirloom tomatoes stood the test of time.  Hybrids are bred for success.
The next thing you will want to know is if they are determinate or indeterminate. Determinate tomatoes grow to a "determined" size and produce all their fruit over about a 3 week period.  These tomatoes are great for canning because they are all ready to go at once. Determinate tomatoes also work best in container plantings because you know how big they will grow and they will begin to die shortly after harvest. Indeterminate tomatoes keep on growing and produce fruit throughout the growing season.  This is ideal if your primary use is sandwiches and salads. Because these plants can get quite large it is best if they are planted in the ground.  But they can be trained to grow on a trellis or a string so they grow up and don't take over your garden.
So I bet you are wondering what we recommend. Below is a list of Heirlooms we like and a list of Hybrids we like.
Brandywine (Heirloom)
Black Krim (Heirloom)
San Marzano (Heirloom)
Cherokee Purple (Heirloom)
Mortgage Lifter (Heirloom)
German Johnson (Heirloom)
Celebrity
Mountain Fresh
Big Beef
Primo Red (Early)
Whichever one you choose, you can't go wrong because nothing is better than a fresh picked tomato in the summertime.